Why we resigned from the Google Partners programme.
Looking for a Google Partner Agency? Find out why we decided to part ways with the Google Partners Programme. Please note that this article reflects the opinion of the author, which you may find is shared by many current or former Google Partner agencies, however you may also find some that disagree, and that's fine.
We should call out that quitting this programme doesn't affect our ability to work across Google Ads. Nor does it affect how well our Ads will work for our clients. The whole point is that we (and your Ads) are better off without this distraction, and that we are sticking to values that the programme did not live up to.
"The Google Partners program is designed for advertising agencies and third parties that manage Google Ads accounts on behalf of other brands or businesses. The Google Partners program is active in over 60 countries and is available in 43 languages.

The program offers thousands of partners strategic benefits focused on education and insights, access and support, and recognition and rewards. Its mission is to empower these companies through innovative tools, resources, and support to help their clients get the most out of their Google Ads campaigns."

Google.com
Partner Criteria in brief review:
There are only 3 criteria to becoming a Google Partner.
Performance
Spend
Certification
Performance:
Has nothing to do with how well or how poorly accounts are run. Solely related to whether you accept or dismiss the recommendations in the platform. You may dismiss all of the AI generated suggestions and get a 100% score, or you can accept everything and get the same score. This is not the defenition of Performance that our clients are expecting.
Spend:
Incentivised to get clients to spend more money on the platform, even when not justified. Our combined client spend was always in excess of the target, yet we always get told by Google to spend more.
Certification:
Managed by a third-party provider, there are significant issues with the process, see below.
New Client Bonus Credit Offer:
Initially, Google Partner members had the advantage of providing bonus ad credits to new accounts they brought to Google Ads. However, businesses opening other Google accounts like Analytics and Google Business are now also offered the same introductory credit. As a result, clients no longer have a reason to include a Partner agency when setting up a new Ads account since the ad credit they receive is the same or even better. Although RankPower Ltd didn't rely on bonus credit offers to win new accounts, many agencies felt betrayed by the program and undermined by the system they were trying to support.
By the way: If you see an Ad like below for Google Ads credit of $600 if you spend an equivalent $600, here's what you should do:
Check that the advertiser is in fact Google Ads (sometimes these are not genuine)
If you want to try Google Ads, take up the offer.
Do NOT try to set the ads up yourself. It's difficult and mistakes are very costly. Expect to waste your whole $1200 (2x $600, yours and theirs) if you are not already an expert at Ads. Hire a professional to set up for you.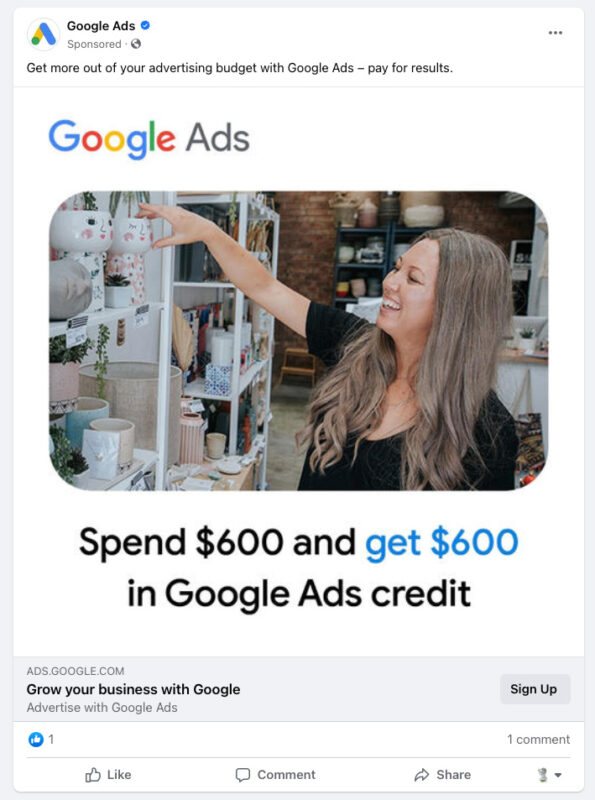 Partners Badge:
Partners have the privilege of displaying a Google Partners badge, which allows them to demonstrate their affiliation with the program. The live Google Partner badge, when clicked, should lead to the Partner center, where businesses can easily verify if an agency has the specific specialisation they are looking for. However, many non-partners (and even some Partners) use an image of the badge without the required link, violating Google's guidelines. This lack of verification has rendered the value of the badge meaningless, and Google has made no apparent effort to address this issue.
Image below is the Partners badge. If you click it, and don't land at Google's verification platform with details about the Agency and their certifications, then the image is a fake badge (like this one).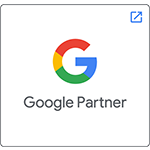 Expert Certifications:
For any agency to qualify as a Certified Partner, a given percentage of their team working in Google Ads platform would need to have passed relevant exams with at least 80% minimum grade.
The value of these certifications is eroded by having questions that:
• Are out of date, for systems or functions no longer available
• Offering blatantly incorrect answers not fact-checked by Google before issuing the exam
• Manipulate the user to answer and act in accordance with underlying Google objectives even where they don't align with client objectives.
Partner Rewards:
From the program's inception, Google included Partner Rewards as an incentive to encourage Partners and their staff to follow specific Google recommendations, grow their businesses, and deliver results for clients. Although these were admirable objectives, there have been instances where Google incentivised agencies to take actions that were not in the client's best interest but benefited Google financially or helped gather more data. RankPower has always prioritised its clients' objectives and disregarded approximately 50% of the recommendations from Google, using its own expertise to outperform them. It is fundamentally wrong for Google to incentivise actions that serve its own interests rather than those of the client.
Platform Based Recommendations:
In recent years, Google's in-platform recommendations have become increasingly frequent, causing significant disruptions to our daily operations. The platform generates a performance score from 0-100%, and even accounts known to be performing exceptionally well often receive scores as low as 60-70%. Initially, RankPower made the mistake of accepting Google's recommendations to improve the performance score, only to realise that performance degraded once it exceeded 70%. Consequently, RankPower ceased accepting such recommendations. It became clear that Google's system was not designed to recognise or deal with high performers, as it was biased toward poor to average performers, which may have benefited from these recommendations.
Phone-based support from Google:
Since RankPower manages multiple Google Ads accounts, we deal with various account managers, most of whom are outsourced to labour forces, predominantly in India. These operators often lack familiarity with our local business, culture, and conditions. Only individual accounts spending over $1 million annually on the Ads platform receive any degree of local support. We now receive an overwhelming number of calls from Google account managers, ranging from 5 to 20 per week. Requests to consolidate all accounts into a single support operator are ignored, resulting in continuous calls from different operators. Moreover, the quality of advice provided by these operators, who often have only a few weeks or months of experience, is generally poor. They simply read platform-based recommendations that all agencies (and many clients) can access and read themselves. In other words, they promote advice solely based on what the Google AI system suggests, without considering the potential flaws or limitations of such recommendations.
In summary:
The Google Partners program was initially a great idea. However, it no longer aligns with our values and fails to provide any advantages for our clients.
Our resignation from the programme was made automatically effective this year.